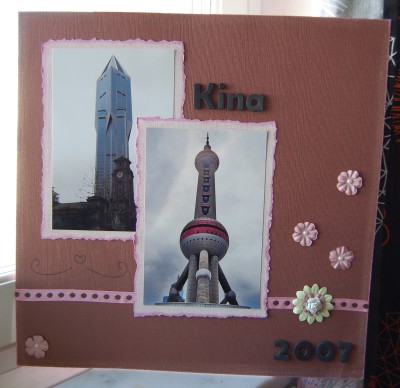 Skulle nog kunna göra hur många LO's som helst med fotografier från Kina. Här ser ni TV-tornet längst fram och ett hotell i bakgrunden. Åk till Kina om ni har möjlighet – det är helt fantastiskt!
Papper:
Core'Dinations The Chocolate Box – Raspberry/Cordial
Core'Dinations Whitewash Pie Safe
Stämplar:
Imago, Alla hjärtansdag set, 11 st stämplar. SD-IP1489
Blommor:
Kaiser

Övrigt:
Foam-alfabet
Band
Pearlbling
—————————————————
I could probably do lots of LO's with the photos from China. Here do you see the TV-tower in the front, and a hotel in the back. Travel to China if you have the opportunity – it is absolutely fantastic!
Paper:
Core'Dinations The Chocolate Box – Raspberry/Cordial
Core'Dinations Whitewash Pie Safe
Stamps:
Imago, Valentines day set, 11 stamps. SD-IP1489
Flowers:
Kaiser

Övrigt:
Foam-alpha
Ribbon
Pearlbling
/Ellinor – Leijona