This time I punched out letters from a vintage sheet from Core'dinations. Vintage papers are already "worn" so they can be used directly as they are if you want.
I have used the alphabet "Vintage Market" from Tim Holtz. Suitable, huh? 🙂
You can use the letters directly as is or grind them a bit more.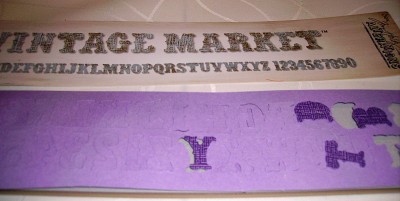 If you want to grind them more, it is easiest to do it before cutting out the letters. I (of course) wanted to try both, so I sanded some of the sheet in advance. Then I took the little trundle from the tool box and sanded a little on some of the letters. This way you can easily control where the letters will be most worn – but you have to be careful not to tear the letters apart! 🙂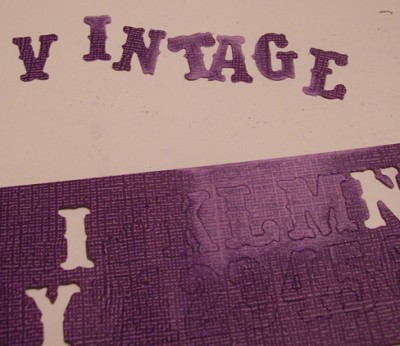 Here are some other tips when you use Core'dinations paper:
• Use a thick paper as protection for your work area. Paper rolls (for children) works great! They are durable and easy to roll up when you are finished and it's easy to lift away the sanding dust from the work area! And they are easy to come by too…
• Remember to wipe off the sanding dust with a bit of paper. Otherwise, it may be difficult to get the tape or glue to stick.
• If you grind both light and dark paper – make sure to clear the dark sanding dust off before you start working with the bright paper to avoid dark fingerprint on the bright paper. Or use it to get color effects on the bright paper! 🙂
• An apron is great to have! The dust seems to be fond of fabric and if you, like me, like to sit close to the desktop you soon have a dust-stripe across your stomach … 🙂
• Sanding block or loose paper? It is a matter of taste if you sand with a block or loose paper – both have their advantages. The block, I think, is easier to use to do edges, to get a nice bevel. (see picture – its from my LO). Loose sand paper, I think it works better for small details and precision work.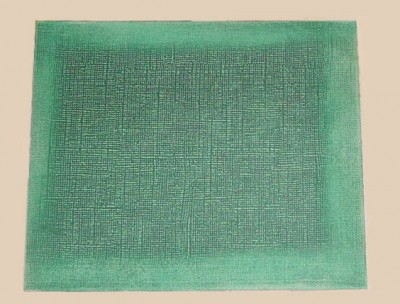 Paper: Core'dinations Vintage Collection Serene and Oasis
Alphabet: Vintage Market from Tim Holz
🙂 Vivi