Fick reda på att mitt syskonbarn önskade sig pysselsaker till sin födelsedag, blommor brads, bling osv. Och hur förpackar man det på ett snyggt sätt? Jo man kan ju altra en plastburk till exempel… Grattiskort & paket i ett så att säga… Plus att han kan använda burken som förvaring också. 🙂
————————————————-
I found out that my nephew wanted some scrapbooking things for his birthday, flowers, brads, bling, etc.. And how to wrap that in a nice way? Well one can alter a plastic jar, for example
… Congratulations card & package in one… Plus, he can use the
jar for storage also. 🙂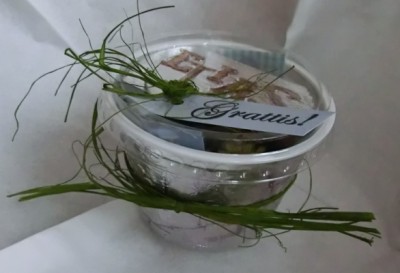 Burken har fått ett aluminiumhölje. Lade några utstansade motiv under tejpen och har gjort små hål så det ska se ut som "sömmar" i plåten.
————————————————-
I wrapped the jar in aluminum tape. Added some cut-outs beneath the tape
and made small holes so it should look like "seams" in the plate.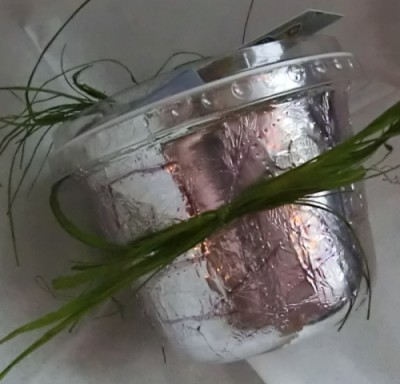 På locket satte jag utstansade bokstäver, klädde med tejp och satte på en grattis-tag.
————————————————-
On the cover I put cut-out letters, dressed with tape and I put on a
congratulations tag.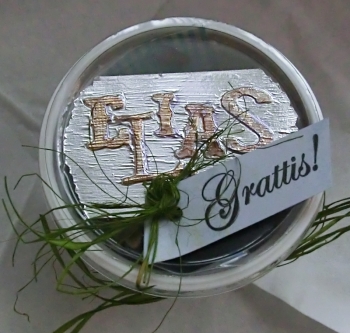 Jag använde mig av bokstäver som blivit över från tidigare gånger så det är blandade typsnitt och färger. Det syns på undersidan som jag lät vara som den var. Tänkte det kunde vara kul för födelsedagsbarnet att se hur det var gjort – pysselintresserad som han är. 🙂
————————————————-
I used letters left over from earlier, as it is
mixed fonts and colors. Since the cover is transparent you can see from
beneath how it's made. Thought it might be fun for the birthday child to
see how it was done. 🙂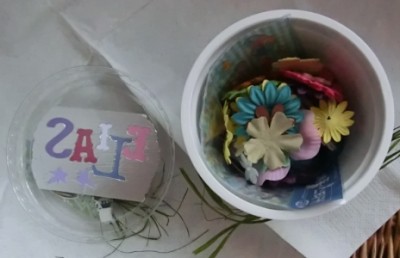 I burken lade jag sedan ett urval från mina blommor, brads, bling och stickers.
Det blev väldigt uppskattat och det pågår byteshandel mellan honom och
hans mor ibland då de vill byta till sig godbitar från varandra… 😉
————————————————-
In the jar, I then put a selection from my flowers, brads, bling and stickers.

Papper: Cardstock
Stämpel: Grattis 6 SD-C1093
Övrigt: Aluminiumtejp, bastband, chalk
————————————————-
Paper: Cardstock
Stamp: Congratulations 6 SD-C1093
Other: Aluminium tape, ribbon, chalk
🙂 Vivi