En liten tag att sätta på paket, blomma eller något annat,
Gjord i tre lager papper med en liten dekoration av en notrad från
mönsterpappret samt lite blommor och blad, och naturligtvis ett litet hjärta.
Material
Papper: Mönsterpapper, dubbelsidigt från 7gypsies, Lille
Paper, Beautiful. Cardstocks Core´dinations essentials
Stämplar: Snirkligt hjärta 6 stor vänster SD-G0440, höger
SD-G0438
Övrigt: Blommor från Petaloo och Kaiser, Bling från Kaiser,
Band från May Arts, Brads från Tim Holtz, Färg Paprika 155 från Vesa Color.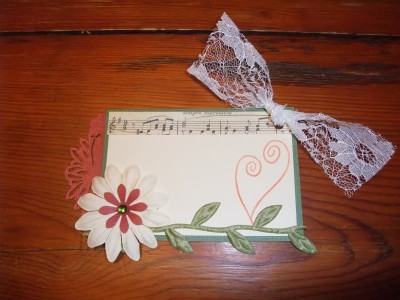 A little tag to put on the package, flowers or anything else, Made of three
layers of paper with a little decoration from the pattern paper and some
flowers and leaves, and of course a little heart.
Materials
Paper: Pattern paper, double sided from 7gypsies, Little Paper, Beautiful. Cardstocks
Core'dinations essentials
Stamps: squiggly hearts 6 large left SD-G0440, right SD-G0438
Flowers from Petaloo and Kaiser, Bling from Kaiser Band from May Arts Brads
from Tim Holtz, Color Peppers 155 from Vesa Color.
Marie