Här kommer ett grattiskort till nyblivna föräldrar.
Det var ett så fint motiv på mönsterpappret att det fick dominera kortet.
Stansade ut ett par "taggar" i samma form som mönsterpappret för att
hålla ihop det hela. Ville lyfta upp det beigea i bilden så att det inte
skulle bli allt för lila så det fick bli ett par beigea ränder också.
🙂
A congratulation card for new parents.
It was so nice designs on the pattern paper that I let it dominate the card. I punched out a couple of "tags" in the same shape as the pattern paper to keep it all together. I wanted to lift up the beige in the picture so that it would not be a too purple card so I made a pair of beige stripes too.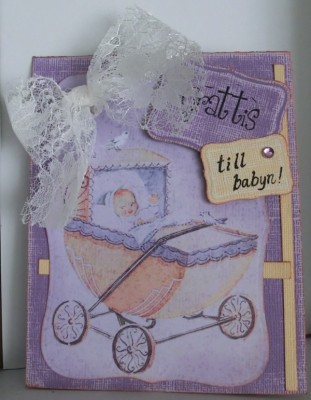 Papper: Core'dinations FORTUNE TELLER + BEACH, FabScraps Vintage Carriage
Stämpel: Grattis SD-B1181
——————————————————————————————-
Paper: Core'dinations FORTUNE TELLER + BEACH, FabScraps Vintage Carriage
Stamp: Congratulations SD-B1181
🙂 Vivi